Africa Rising - But Who Benefits?
Many of the fastest growing economies in the world are in Africa.
The continent's future appears to be bright, but do growth figures reflect an improving quality of life?
It is a story that is being told with increasing frequency.
Against the backdrop of a prolonged slump that has brought financial paralysis to much of the Western world, experts have identified Africa as having many of the world's fastest-growing economies.
Some point to the fact that high growth rates should be viewed in context, since African economies - mostly relatively small - are expanding from a low base, making improvements seem disproportionately impressive.
But, while the US and UK struggle to emerge from prolonged recessions and European nations such as Greece and Spain experience mass unemployment, the International Monetary Fund and the World Bank say countries such as Ghana, Ethiopia, Rwanda and Mozambique are experiencing a boom.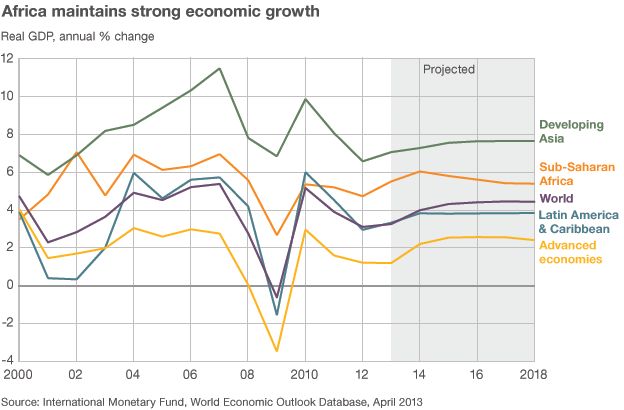 Many have ascribed this trend to what they believe are burgeoning middle classes in many nations.
The African Development Bank's (AfDB) chief economist Mthuli Ncube has described this trajectory as "unstoppable."
For renowned economist Jeffrey Sachs, the mobile phone has become a symbol of this apparent new dawn. He has described it, and the access to the internet that it can bring, as the single most transformative tool for development.
Comments
No comments yet
Please comment